In honor of the soon-to-be-expired mini catalog, I am going to be posting some fun projects using the Carousel notes from the mini catalog. It took me awhile to get them and then some more time to mess around with them...don't forget I was busy having a baby during this mini catalog, so I get a little leeway!

I have found that I REALLY like these! At first, I had no clue what to do with something so different from every other precut card I'd ever used, but once you start, the possibilities just keep presenting themselves! This card is something fairly simple without adding too much to the original card.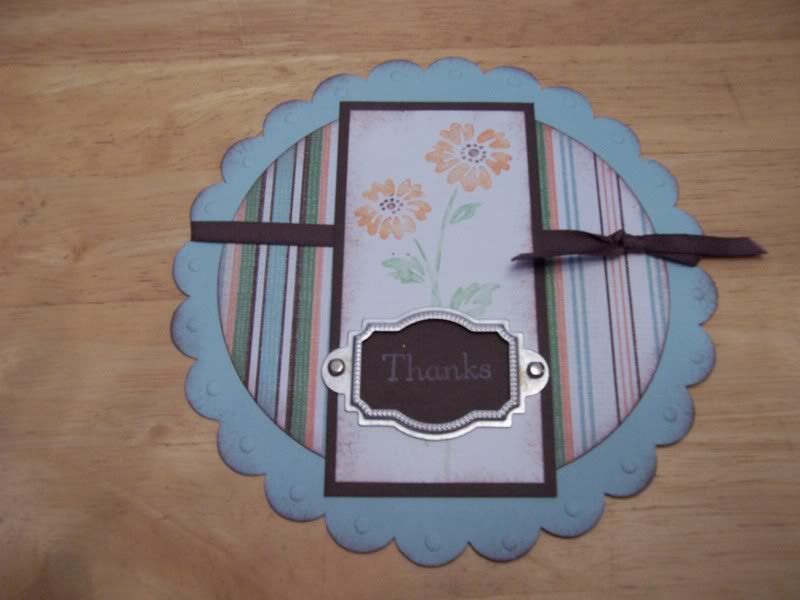 I used my Afternoon Tea designer paper along with the Live Your Dream set from the mini in addition to the Chocolate Chip twill tape...also from the mini...for the basic card. I really wanted to work in the "thanks" from the stamp set for my greeting, so I used my designer label punch through the Whisper White layer of cardstock, layered it over the Chocolate Chip cardstock, attached the silver hodgepodge frame (from the mini catalog!), and stamped "thanks" through the hole in white ink. I also decided to jazz up the scalloped edge by dry embossing using my Crop-a-dile. Then I sponged *everything* because after glitter and ribbon, a girl's best friend is an inky Chocolate Chip sponge! I swear that color goes with everything under the sun!

The final step? Address the lovely Chocolate Chip envelope & mail this puppy off to a friend! Yes, I actually sent this off already...I'm widely noted for taking forever to mail things out. I hate taking all the kids to the post office... :O( Plus, I'm just a procrastinator...I still have one last thank you card from Lucy's birthday *last* year to mail out. Yeah, her next birthday is in three weeks...oops!